OHIO University Undergraduate Catalog 2022-23
[Archived Catalog]
University College
---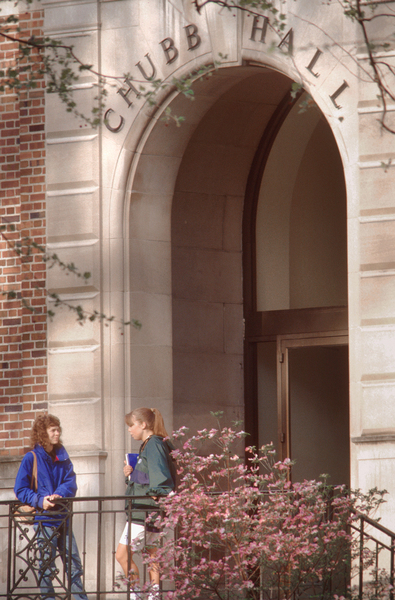 www.ohio.edu/university-college
Programs
Aerospace Studies
Applied & Technical Professions
Military Science
---
University College
www.ohio.edu/university-college
Chubb Hall 140
Phone: 740.593.1935
Fax: 740.593.0206
university.college@ohio.edu
David Nguyen, Dean
Mission
University College supports OHIO's vision by advancing the academic and personal growth of all prospective and current Ohio University students; we provide the guidance and resources for students to make successful transitions, to succeed in the classroom, and to contribute to their communities. We collaborate with campus and community partners for success both in and out of the classroom. By being flexible, compassionate, innovative, and resourceful, we help students realize their potential, and we promote the evolution of the university for the long-term benefit of our students.
Advising and Student Services
Advising and Student Services (140 Chubb Hall, 740.593.1935) supports the academic, intellectual, and personal development of undecided, undeclared, degree-seeking and College Credit Plus students through professional advising. Focusing on exploring academic majors, developing skills that support student sucess, and creating a path toward degree declaration. For more information, follow the hyperlink or contact us via email at university.college@ohio.edu.
Academic Probation
At the conclusion of each academic term, all students who, at the time of review, do not have an accumulative GPA of at least 2.0, will be placed on academic probation.
Removal from Probation. Removal of probationary status is automatic at the close of the semester when your accumulative GPA rises to 2.0 or above, unless your college requires higher standards.
Dismissal (Drop) and Reinstatement. If you have been dropped, you are not able to enroll for courses at Ohio University. You may petition your college student services office for reinstatement, but normally reinstatement will not be granted until at least 12 months after your dismissal. As a condition for reinstatement, the dean of your college may suggest remedial steps you can take. 
Students petitioning for reinstatement must do so according to the following deadlines:
For reinstatement in Fall Semester, petition must be received by August 1.
For reinstatement in Spring Semester, petition must be received by December 15 (January 2, if you dismissed the immediate preceding fall semester).
University College Service Areas
Academic Achievement Center (AAC)
Academic Achievement Center (230 Alden Library, 740.566.888) helps students maximize their academic potential. The AAC offers free academic assistance programs to all Ohio University students. For more information, follow the hyperlink or contact us via email at aac@ohio.edu.
Center for Campus and Community Engagement
The Center for Campus and Community Engagement (29 Park Place, 740.597.1206) connects students, faculty, staff, and communities (from local to global) to create and maintain mutually beneficial academic, research, and service partnership that foster resilient communities and life-long engaged citizens. communityengagement@ohio.edu
First-Year and Student Transitions:
Learning Community Programs
Learning communities (060 Chubb Hall, 740.593.1953) allow first-year students the opportunity to have the benefits of a small college atmosphere while experiencing Ohio University's large campus culture. Participation in a learning community guarantees students 2–4 common courses for fall semester. Each community has approximately 20 students. As a result of this small size, participating students develop cohesive relationships with their peers and have enriched interaction with faculty. Participation in a learning community gives the opportunity to engage in academic as well as social activities with members of the community. For more information follow the hyperlink or contact us via e-mail at learning.communities@ohio.edu.
Bobcat Student Orientation
Each summer, The Office of First-Year & Student Transitions (FYrST) conducts Bobcat Student Orientation, which is designed to acquaint all new Athens campus students and their families and guests with the programs of the University. New students will meet with faculty, staff, and orientation leaders to get to know Ohio University, plan an academic program, complete a class schedule, and register for their first semester. Students will also learn about the wide variety of social and group activities available on campus, while becoming acquainted with other students in their college. Bobcat Student Orientation is mandatory for all new Ohio University students. Orientation programs are also held before the fall, spring, and summer semesters for first-year and transfer students. Further information about Bobcat Student Orientation is available in the Office of First-Year & Student Transitions, 740.593.1951 or by visiting www.ohio.edu/university-college/orientation.
Student Accessibility Services (SAS)
It is the mission of Student Accessibility Services (230 Alden Library, 740.593.0790) to ensure equal opportunity and access for students with disabilities in the Ohio University community. Central to this mission is the development of an academic environment that is accessible to all people without the need for adaptation. While working toward the goal of full inclusion, accommodations must still be provided on an individual basis.
At the college level, it is the individual student's responsibility to initiate the registration process with Student Accessibility Services. Students may initiate a request to Student Accessibility Services at any point in their academic career. To be eligible for student accessibility services a student must:
submit current disability documentation
submit an application for accommodation
receive notification from an accessibility coordinator that you are eligible; and
schedule and attend an intake appointment with your assigned accessibility coordinator
The type of documentation required depends on the individual disability. Guidelines for documentation are available on our website or inquiries may also be made in person or by phone. disabilities@ohio.edu
Reserve Officers' Training Corps (ROTC)
ROTC is based on our Constitution to help "provide for the common defense." Today, when the security interests of this nation are so inextricably involved with world issues, our nation needs talented and well-trained officers in its military services. If you have the desire and talent to serve your country, ROTC can lead to a rewarding career as a military officer. Our military needs the best managers, administrators, engineers, and scientists the nation's schools can produce, to be leaders with wide ranges of knowledge and skill. The Reserve Officers' Training Corps, in agreement with universities and colleges across the nation, is designed to produce these types of leaders for our nation.
---