OHIO University Undergraduate Catalog 2017-18
[Archived Catalog]
Patton College of Education
---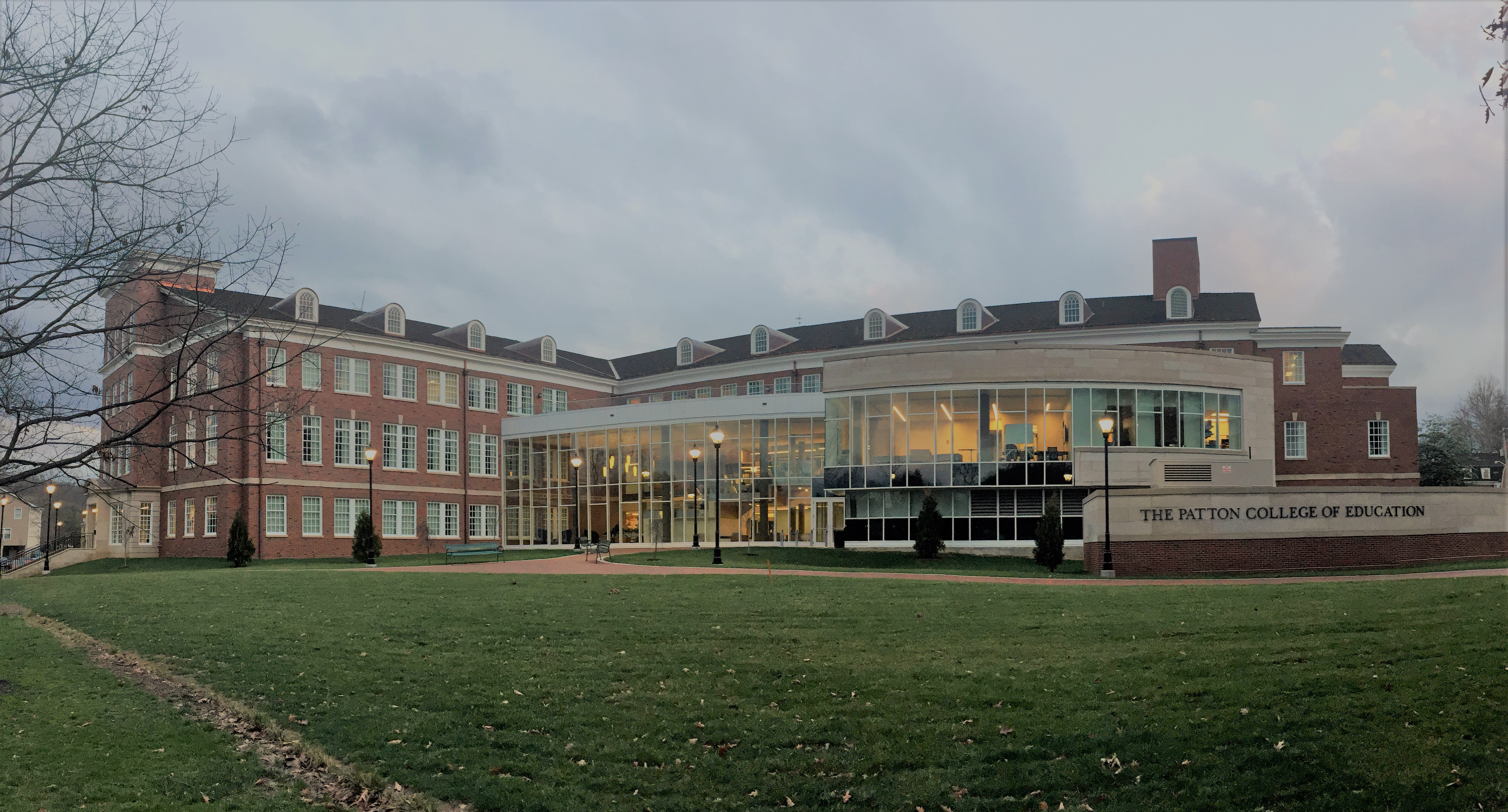 (Newly renovated McCracken Hall)
McCracken Hall
Phone: 740.593.4400
Fax: 740.593.9310
www.ohio.edu/education/
Renée A. Middleton, Dean
Ann Paulins, Associate Dean
Maureen Coon, Assistant Dean
Connie Patterson, Assistant Dean
Mission
The Gladys W. and David H. Patton College of Education is committed to preparing individuals for professional roles in education; education-related fields; recreation and sport pedagogy; retail merchandising and fashion product development; and restaurant, hotel, and tourism. In addition to professional preparation programs at the undergraduate level, the college provides graduate programs in a full range of professional education and education-related fields of study.
All undergraduate programs include a broad base of general education, intensive preparation in the subject matter, and a professional emphasis that integrates theory with practice.
The Patton College of Education is accredited by the North Central Association of Colleges and Schools and the National Council for Accreditation of Teacher Education (NCATE). All programs leading to licensure for teaching in Ohio are approved by the Ohio Department of Education and aligned with Ohio Standards for the Teaching Profession, developed by the Ohio Educator Standards Board.
The Patton College of Education shares in the mission of Ohio University. Its special mission is to provide supportive and challenging experiences that foster the development of educational and human services professionals and the communities they serve. The College is a center for the development of knowledge and effective practices in education, human development, and organizational leadership. It promotes the efforts of participants to design and experiment with new practices, evaluate their impact, and share the results. Thus, programs evolve and are frequently reviewed to comply with changing standards established by the State of Ohio and accrediting agencies.
Departments
Department of Teacher Education
The mission of the Department of Teacher Education  is to prepare future educators for a variety of opportunities in the field of teacher education. Conferral of the Bachelor of Science in Education (B.S.Ed.) degree signifies successful completion of a program that enables demonstration of competence in three areas: (1) general education; (2) the knowledge, skills, and dispositions required for teaching; and (3) the subject matter in the chosen teaching field(s). In addition to the General Education requirements of the University, candidates for a teaching license must also satisfy requirements established for their specific licensure programs. Teacher Education oversees five licensure areas leading to a Bachelor of Science in Education (B.S.Ed.) and one program leading to an Associate in Applied Science (A.A.S.). At the bachelor's level the following teaching fields are offered: Early Childhood, Middle Childhood, Adolescent to Young Adult, Intervention Specialist (Special Education), and Multi-Age programs. A major in Child Development is available at the associate level. All programs require extensive field experience and for those programs at the bachelor's level an intensive senior clinical yearlong experience, including a Clinical and Professional Internship, serves as the capstone course.
Department of Recreation and Sport Pedagogy (RSP)
The Department of Recreation and Sport Pedagogy  (RSP) offers undergraduate degree programs that lead to a Bachelor of Science in Physical Education and a Bachelor of Science in Recreation Studies. Students in Physical Education develop their academic background, instructional skills and physical talents, as well as preparation to enter the work force. Extensive field experiences at all levels of the curriculum through its uniquely designed methods course sequence are provided. Students are prepared to teach physical education from PreK through grade twelve. Students in Outdoor Recreation & Education qualify for leadership positions in settings, such as high adventure programs and guide services; local, state, and federal parks; camps; religious organizations; and outdoor schools, such as Outward Bound and the National Outdoor Leadership School. Recreation Management is an interdisciplinary profession. Knowledge and content emphasis in the recreation sector focuses on international, national, regional, state and city recreation services, and they can be applied in commercial, community, collegiate, camp, and residential settings. Recreation Management students qualify for leadership, supervisory, and management positions in city park and recreation departments, resorts, campus recreation, camps, marinas, and non-profit organizations such as, YWCAs & YMCAs.
Department of Human and Consumer Sciences
The Department of Human and Consumer Sciences  (HCS) offers degree programs that lead to a Bachelor of Science in Human and Consumer Sciences. The following programs are offered at the bachelor's level: Family and Consumer Science Education; Restaurant, Hotel, and Tourism; and Retail Merchandising and Fashion Product Development.  The Family and Consumer Sciences Education program provides students with the opportunity to select from two different majors: Family and Consumer Sciences-Teaching and Family and Consumer Sciences-Community Leadership. ServSafe Certification in the Restaurant, Hotel and Tourism program provides food safety training in five key areas which include basic food safety, personal hygiene, cross-contamination and allergens, time and temperature, cleaning and sanitation.  The Retail Merchandising and Fashion Product Development program offers the innovative MacKenzie King Honors Program and utilizes diverse instructional formats such as online courses, an annual study tour to New York Fashion Week, and a summer study abroad program to Milan and Florence, Italy. In addition, the HCS department provides a Customer Service program which is designed for students who wish to participate in full-online courses. The online major leads to a Bachelor of Applied Human and Consumer Sciences. It is a bachelor completion program designed for students who have completed an associate's degree. Professional Certification in Customer Service, with the National Retail Federation Foundation, is an industry-driven, endorsed credential that helps employers distinguish and recognize qualified customer service professionals. It also helps to define career advancement opportunities for candidates to demonstrate their knowledge and abilities.
Department of Counseling and Higher Education
The Department of Counseling and Higher Education  offers graduate programs only.
Educational Studies
The Department of Educational Studies provides service courses for Teacher Education students, but does not offer bachelor degree programs.
Programs
Other Programs
---